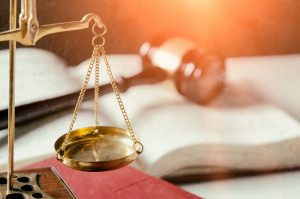 The U.S. Constitution explicitly guarantees that States shall not pass ex post facto laws – laws that provide after-the-fact punishment – and New Jersey's Constitution obliges. Ex post facto clauses guarantee that existing criminal statutes provide fair warning of their effects and that citizens can rely upon these cause-and-effect warnings (until they've been definitively changed). What's essential to relief under an ex post facto clause is that people are owed fair warning when legislature amplifies any punishment beyond the level that was originally stipulated at the time a crime was committed.
State v. Hester
Four New Jersey cases were reviewed in consolidation by the New Jersey Appellate Division in State v. Hester. All four cases raise the same issue related to the special sentence of community service for life (CSL – a product of Megan's Law). That issue is whether New Jersey's passage of a law that retroactively increases the penalty for a CSL violation is in turn a violation of New Jersey's ex post facto clause. The increased sentencing in question is part of a 2014 amended law that significantly increases prison sentences for those in violation of CSL.
In State v. Hester, the defendants had all been sentenced to CSL before 2014 and before the amended sentencing requirements. Prior to this amendment, a violation of CSL carried a fourth-degree charge and a maximum sentence of eighteen months in prison. After the amendment's passage in 2014, such a violation carried a third-degree charge and the significantly increased maximum sentence of five years in prison. When these four defendants were charged with violations against their CSL (post 2014 amendment), they each faced harsher sentencing than their predicate crime originally called for.
Application of the Ex Post Facto Clause
To be found in violation of the ex post facto clause, a legal statute must meet one of three conditions:
It must punish as a crime an act that was innocent when it was committed.
It must make an after-the-fact punishment harsher than it would have been at the time the crime was committed.
It must deprive a defendant of a defense that would have been legally available at the time of the crime's commission.
In State v. Hester, all four cases came down to whether crime – as referenced in these three conditions – refers to the original offense that lead to CSL or to the offense of violating CSL. If crime refers to the original offense, then applying the harsher punishment would be unconstitutional. Conversely, if the violation of CSL is the crime, then the more burdensome punishment could legally be applied.
Violation of the Ex Post Facto Clause
In the final analysis, the New Jersey Appellate Court ruled that crime indeed refers to the original or predicate offense that led to a sentence of CSL. For this reason, the 2014 amendment was found to be unconstitutional for crimes resulting in CSL that were committed before 2014. In other words, those pre-amendment cases cannot be subjected to after-the-fact punishment.
If You're Facing a Charge of CSL Violation, Call 973-686-9787 Today
If you've been charged with a violation of your CSL sentence, do not hesitate to contact the Law Offices of David W. Polsky today. As an experienced criminal defense lawyer, David has the skill and commitment to fight for you and your rights. We're here to help, so give us a call at 973-686-9787 or contact us online.